Home
The 2016 version of the Jaarboek of the Thomas Instituut is just published. This yearbook, edited by Henk Schoot, contains contributions by Rik van Nieuwenhove, Lambert Hendriks, Kevin Grove CSC, Anton ten Klooster and Michael Estler. Copies can be purchased at our administration office. Continue for full details on the contents.
The Thomas Instituut welcomes a new member: Giuseppe Ferrari. Ferrari will work on the relevance of Aquinas's ethics for present-day ecological concerns.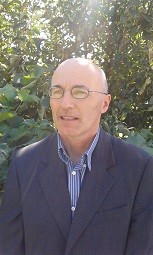 As of May 1, 2016, Rudi te Velde (1957, Stadskanaal, Netherlands) was appointed on an endowed chair devoted to the philosophy of Thomas Aquinas. This chair is funded by the Dutch Thomas More Foundation, and attached to the Tilburg School of Catholic Theology. Longtime member of the Thomas Instituut te Utrecht, Prof. dr. Rudi te Velde is an internationally acclaimed expert in the field of the philosophy of Thomas Aquinas. Active on this Chair, Te Velde will contribute to the research of our Institute by studying the philosophy of Thomas Aquinas, its strenghts and its relevancy for contemporary thought.