Home > Links > Dictionaries and sites
Dictionaries and sites
Catholic Encyclopedia
Article on Thomas Aquinas in
The Catholic Encyclopedia
, a fifteen-volume encyclopedia covering a broad range of topics, secular and religious, from a Catholic perspective. The version being used for this project was published in 1913.
Corpus Thomisticum

by Enrique Alarcón (Pamplona). The Corpus Thomisticum project aims to provide scholars with a set of instruments of research on Thomas Aquinas, freely available via internet.
Doctor Angelicus
A weblog dedicated to commenting on the philosophy and theology of St. Thomas Aquinas, and on Thomism.
Grand Portail Thomas d'Aquin
This site aims at four goals: it surplies translations of the most important texts of Thomas Aquinas, it gives a general introduction into realistic philosophy, it gives information about publications and sites devoted to Thomas Aquinas and it opens the discussion about our world of today and the thomistic philosophy.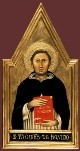 Labyrinth
A site for Medieval Studies where you can find texts, philosophy, theology and historic information.
Perseus Project
Greek and Latin lexica and search tools.
Scholasticon
In French. A site dedicated to the study of Late Scholasticism, both Catholic and Protestant (1500-1800). The site contains bio-bibliographical data about the authors of Second Scholasticism, a list of recent publications in the field, exchange of information, links on the web.
Stanford Encyclopedia of Philosophy
Article on Thomas Aquinas in this online dictionary of philosophy.
The Thomistic E-nstitute
The Thomistic E-nstitute is an internet educational and research center with a focus on the thought of Thomas Aquinas and the tradition that draws from his works. Besides the historical study of Aquinas and thomism, the e-nstitute also disseminates work that engages thomism with recent or contemporary thought in different disciplines. Operated by its 'principal investigator' Jude Chua Soo Meng.
Thomas Aquinas in English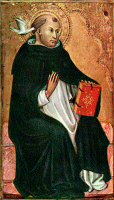 A very helpful bibliography created by Thérèse Bonin of the Philosophy Department, Duquesne University Pittsburgh, Pennsylvania (USA) containing a list of all works of Aquinas with English translations, with some useful information on how to refer to Aquinas' works, etc.
Thomistica.net
Website designed to provide ready access to up-to-date information about resources for scholars of Aquinas, newsletter. Owned en operated by Mark Johnson (Marquette University, Milwaukee, USA).
Thomistic Philosophy
Texts, topics, questions, bibliography, links.